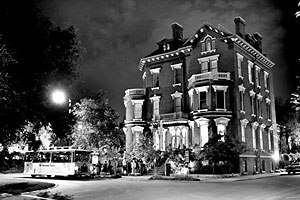 Would love to make a trip down to Savannah, GA. Passed by there many times. But, never stayed over.
There is a B&B called The Kehoe House. Built in 1892 by William Kehoe an Ironworks Foundry owner. He was a father of ten children. As the legend goes. One of the pair of children were twin boys. It is believed they have died while playing in a chimney in one of the rooms. And, never came out. All the fireplaces have been blocked up.
The Kehoe House before turning into an inn was first turned into a funeral home. The inside joke is, they still call the breakfast room, the viewing room.
The inn does not really allow children to stay over. Which compounds the hauntings even more. Guests say they hear running and laughter of children. The main hauntings are in Room 201 and 203.
In 201, guests had their faces touched. When they opened their eyes to see a child looking right at them.
In 203, a guest said they felt someone sitting next to them in bed.
Front Desk staff head the front door ring. Turn to look through the glass front door. No body there. But, then the door opened by itself.
During a ghost tour a boy heard a voice saying, "Come play with me!".
I recommend a book to read before going on vacation to Savannah. "Haunted Savannah by James Caskey. He's involved with the haunted tours there.
http://www.kehoehouse.com/