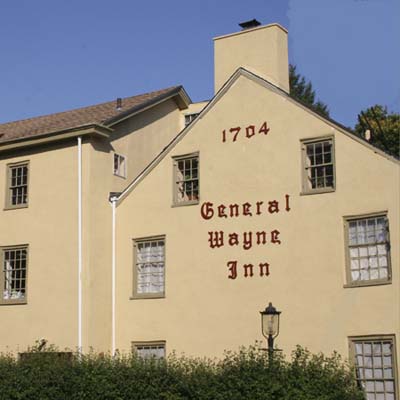 Built 1704 had went under several names. William Penn Inn, Wayside Inn, Tunis Ordinary and Streepers Tavern. It's renamed most recent after a local hero called General 'Mad' Anthony Wayne who stayed there once. Many Revolutionary Battles were fought near the tavern. George Washington, Marquis de la Fayette have frequented there. As well as the British and the Hessian's. Edgar Allan Poe craved his initials on the window sill in 1843.
It is said that there are 17 entities minus the most recent haunting the tavern. One of the owners of the tavern have found human remains in the basement. A recorder was once placed on a table during the night. On listening to the recorder he heard bar stools moving, the water faucet being turned on and off. Glasses catching the water. A customer once looked in through the front window and saw a man dressed in Hessian clothes sitting at the bar. Once in the 1990's someone saw a head of a Hessian on a shelf. This is to name a few.
But, what most intrigues me of the place is what happened most recent. In 1996 Jim Webb was murdered there on the third floor by his business partner. A 20 year old chef asst. committed suicide a year later. She was the only witness to Jim's murder.
Now the tavern is a synagogue and Center for Jewish Life.