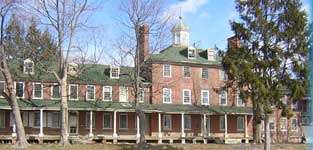 Built in 1799 for patients coming from Philadelphia and immigrants entering the new world. The site is self was settled by the Lenape Indians and then first Europeans settlers there, the Swedish in 1643. There is also a Immigrant burial ground.
It is the 4th largest intacted quarantine station in the world.
Believe it or not. This hospital is located on one side of the Philadelphia International Airport. On the opposite side is Ft. Mifflin.
This Saturday, Oct. 16th from 6 to 12 midnight will be the first ever paranormal investigation of the place. Only to the first 50 who donate $50.00 be able to join the members of The PAST paranormal group.
Let's see what these guys find. Should be interesting with all the history.
Paranormal Investigation:
http://www.sas.upenn.edu/~dbarnes/Flag-Lowering_Event.html
History:
http://www.sas.upenn.edu/~dbarnes/1879_description.html
News Article:
http://www.ushistory.org/laz/index.htm