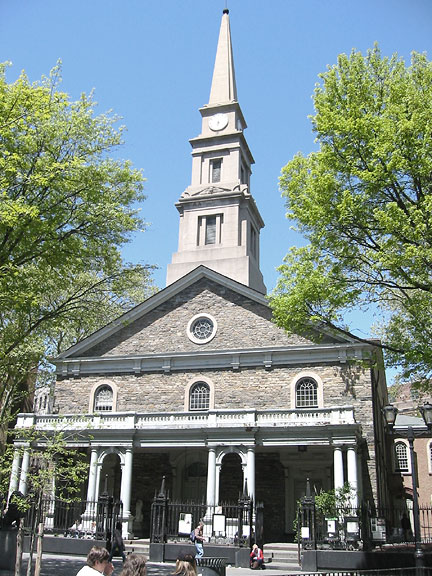 I know this place very well due to the fact that my mother lived in the neigborhood for awhile during the '80s.
Manhattan was first controlled by the Dutch. And Peter Stuyvesant was the leader of this new colony as commander of the Dutch West India Colony as the Bowery area was called in 1651. He lived in the area for 25 years which during that time he traveled the world. In the process he has lost a leg. He wore a wooden leg with silver studs.
The St. Mark's Church is located on 10th St. and Second Ave. in the East Village. Mr. Stuyvesant is buried there in a vault. Many people who visit or attend the church say they can hear the obvious sound of a "peg leg" all throughout the church. They also stated that they see "shadows" and "movements" within the church. What's spookier even passersby say they can see this through the church windows from outside. And the church bells have run at weird times with the presence of a "ghost". People say that the ghost of "Peg Leg Pete" has been seen since 1672, from the time of his death.
http://stmarksbowery.org/st-marsks-and-the-lower-east-side.html
http://en.wikipedia.org/wiki/St._Mark%27s_Church_in-the-Bowery