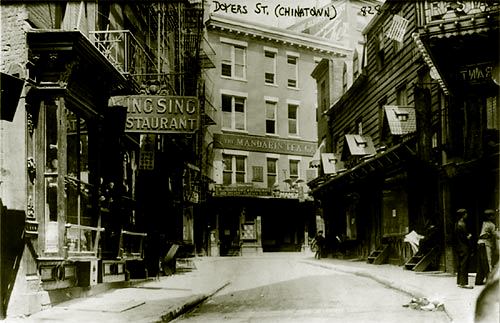 Being originally from NYC. We New Yorkers know of places that out-of-towner's don't know about. Mainly the stories.
For a quick history of the "real" NYC was lower Manhattan. In the 1600's when it was known as New Amsterdam. The area that is NOW known as Wall Street. Was a "real" wall, a blockade to the land North. The rest of Manhattan was all woods, ponds and streams. Mainly farm land. People built summer homes north of Wall Street.
Jumping forward a century or two. In the early 1800's Henry Doyer's Distillery was located what is now part of Chinatown. If any of you have seen the movie "The Gangs of New York". It's located in the same neighborhood as Five Points, The Bowery (that's a story for another day). And, Little Italy is to the west.
What makes Doyers Street interesting is the story of the "Tong Wars", 1870-1930. Gangs that went after their enemies late at night through secret tunnels underneath several buildings along the angled street (which is odd for NYC that is known for it's grid streets). Hundreds or more, were killed by hatchets. Their weapon of choice. Which is why it's called The Bloody Angle. Along the street were Opium Dens, prostitution rings. There was a labyrinth of tunnels for illegal goods moving back and forth.
Today, there is an underground mall. But, some original doors are locked. They remain unexplored.
One added bonus to this story. There is now at the end of the angle a cocktail bar that recently opened called Apotheke. Which was featured on the Housewives of New York. It's made to look like an old opium den.
As for hauntings? What do you think? I personally think that no one wants to talk about it. And, will leave it at that.
Cocktail Bar
http://www.apothekebar.com/index2abar.html
Map
http://www.flickr.com/photos/scoutingny/4452565741/
Old news story
http://www.nychinatown.org/articles/nytimes19201122.html
Book
http://www.bruceedwardhall.com/tea.htm