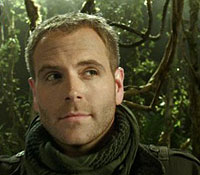 Yes, he's the real life Indiana Jones. After all, he was inducted to The Explorers Club. No small change there.
I like his show. But, I'm not very big on cryptozoology and mythical creatures. Their always lumped together with the paranormal. Which to this day I don't understand. But, anyway, his paranormal investigations are great. And, he really gives you more information on the history of the place then GH. I know, I know, he's friends with them. Their fellow New Englanders. Get pass that. He seems to generate more into the spirits and paranormal. I love it! He has so many more places to go. And, it really keeps me at the edge of my seat. What a ride. And, he's pleasant to the eye. If you know what I mean (wink!)
The last show, Ghosts of Chernobyl was so interesting. I didn't realize that people still can venture into the center of the town. Haunted Forest of Japan and Haunted Forest Romania were interesting too. Heard so many urban legend's about them. King Tut's Curse. I saw the head piece when it came to NYC. A lot of people don't know that there's writing inside. Love the history. But, how can we forget the Island of the Dolls. What a creepy place that is. Can wait to see more. But, please Josh don't go chasing the Jersey Devil. (whispering..) Don't go there. Because there is nothing there.